Customize or Personalize Any Sticks Art Piece
If you are interested in creating your own unique, handcrafted Sticks piece, contact us. We start with your likes and dislikes, add some questions and evolve it into your very own unique piece! It's an easy—and even fun— experience with amazing results!
We can do lots of this on the phone, but check out our online process as well. The interactive features not only allow you to specify all your wishes in writing but also find inspiration in other items on the website.
Here's how it works:
1. Start a Wish List with any Sticks pieces you like. Our online wish lists allows you to gather items with any detail (color, images, sayings) you want to add to your Custom Sticks piece.
A: Log in to your StoweCraft.com account or create one.
B: Name the wish list you are creating for the specific item you want to make (i.e. Becky's Bedroom Mirror)
C: Click "make public" on the wish list or we will not be able to see it and be sure to click "Save"
2. Now you can find items on our web site and add them to your Wish List. (Start with the item that is closest to what you want). There is an ADD to WISH LIST BUTTON under every product on our site.
3. Add any other details you want us to know in the notes for each item and click "Save"

4. Purchase the basic item you want to personalize. From the wish list, just add it to your cart & check out. When you get to the Shipping & Type of Payment Page, you will see an Order Notes Box at the bottom of the page. This is where you write any other details you want in your piece. The notes box will grow to fit whatever you put in it.

Please let us know the name of your wish list and if there is a critical date you want this for.
For us, this is the beginning of your project. We'll take what you've shared with us, go through our design checklist, and get back in touch with you. Nothing is settled or permanent yet. We almost always have questions, options to present and details to confirm. We'll work with you until we reach the final result: a beautiful, meaningful piece of art that you and your family will treasure always.
Sometimes Sticks will require a 15% customizing fee. Once we have your info, we will let you know if that is going to be needed or not.
After receiving both your order and the e-mail with your special requests. We'll confirm with you via e-mail or phone that we've received and reviewed your order with special requests.
We are here 7 days a week, so if you have a question, please call 802-253-2305, email orders@stowecraft.com, or stop in.
Examples of Custom Sticks Art Designs
Large Trunk with Custom Words
Our treasure chests have 3 large panels just waiting for to be painted, stained and inscribed. The handles and feet are solid driftwood sticks. Sticks Art takes its name from these. Inside the lid, The words "You mean the World to Me" are inscribed forever. This trunk measures 35"W 22.5"D 24"H which means it will hold over 10 cubic feet of treasure. Sometimes we make these with a padded leather top.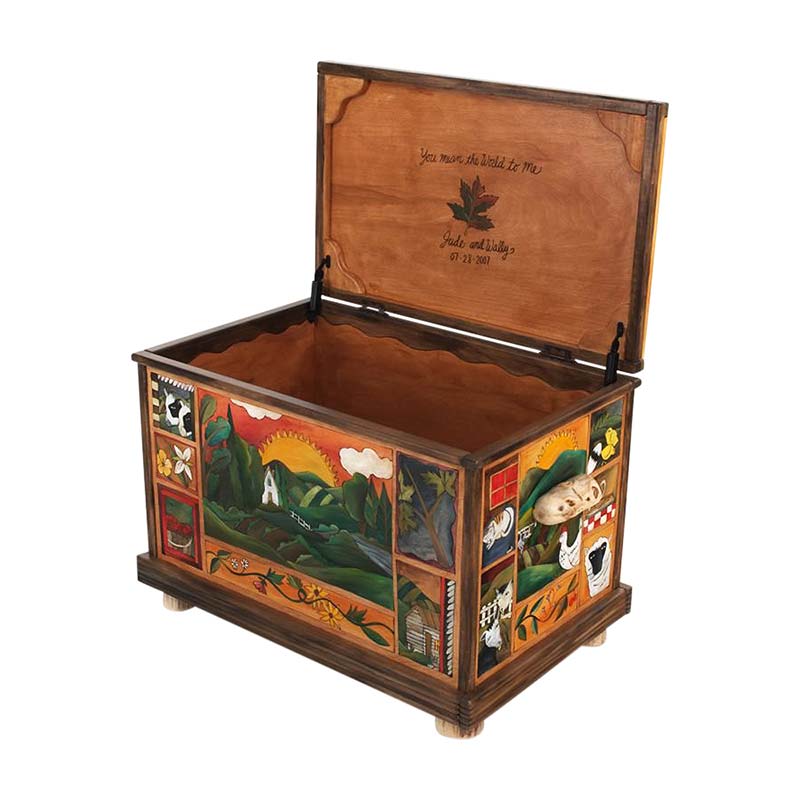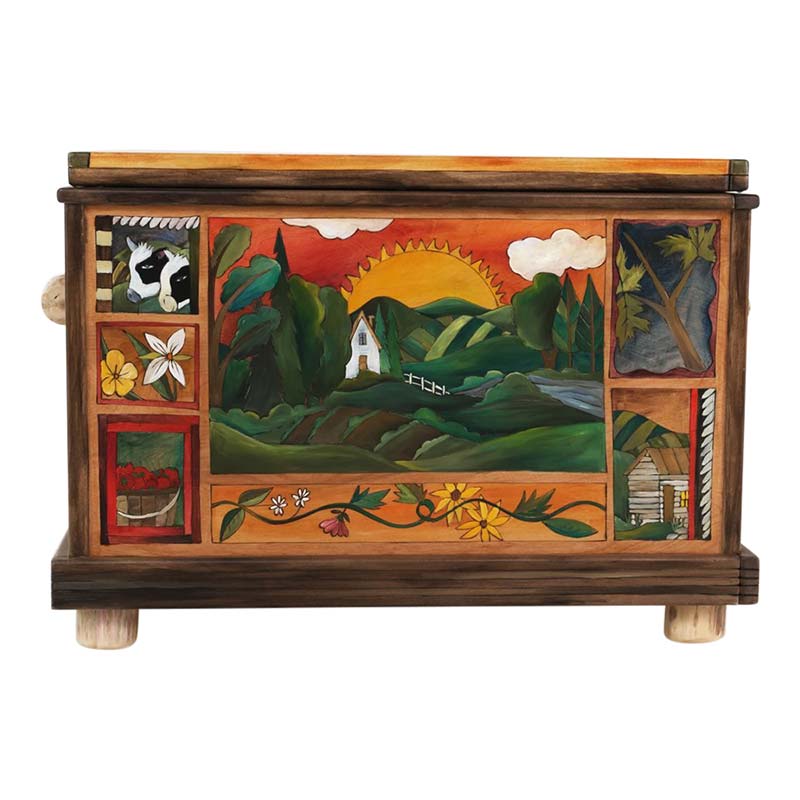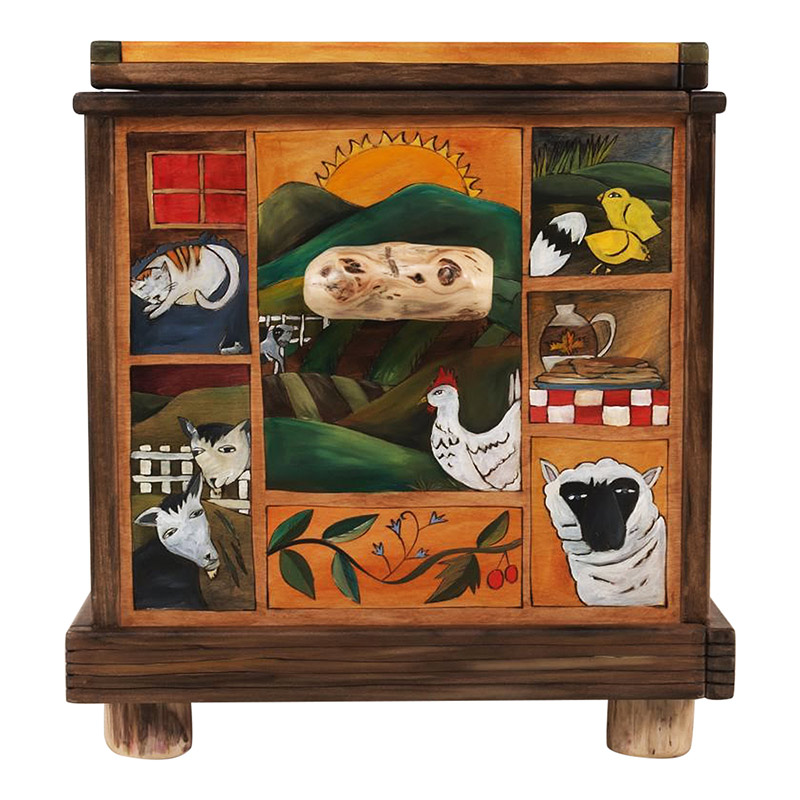 Painted Leather Arm Chair
2 custom made Sticks arm chairs styled to fit a South Western home. Each as wide, flat arm rests perfect for a book or beverage. Nothing has been left out- the wooden and leather parts all contribute to the theme. The customer sent us photos of their home. We used those to get the overall look and color pallet just right. The leather seat and back have been specially treated with colors, cut out and quilted together.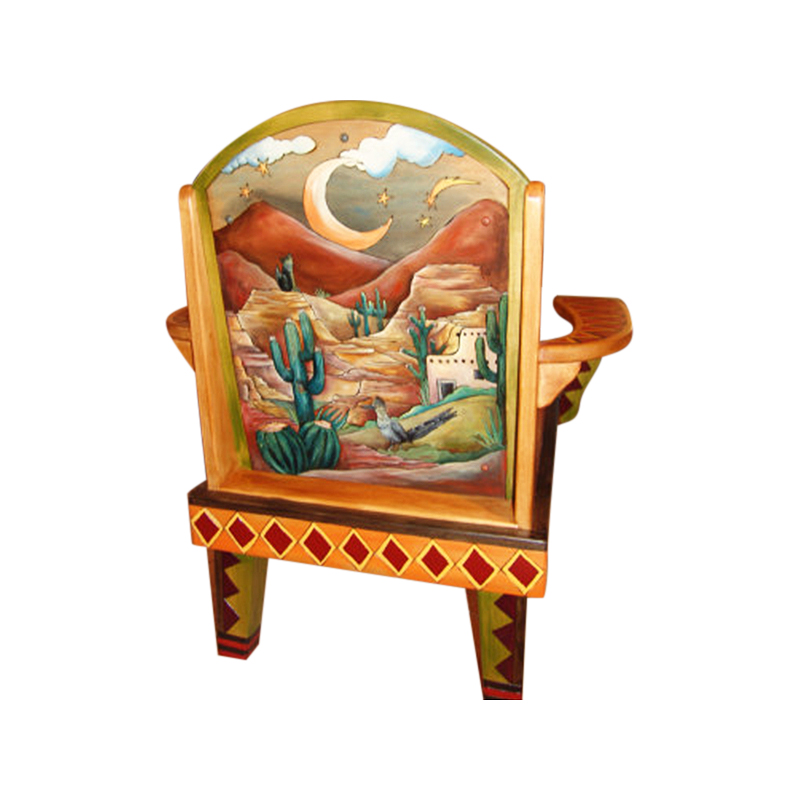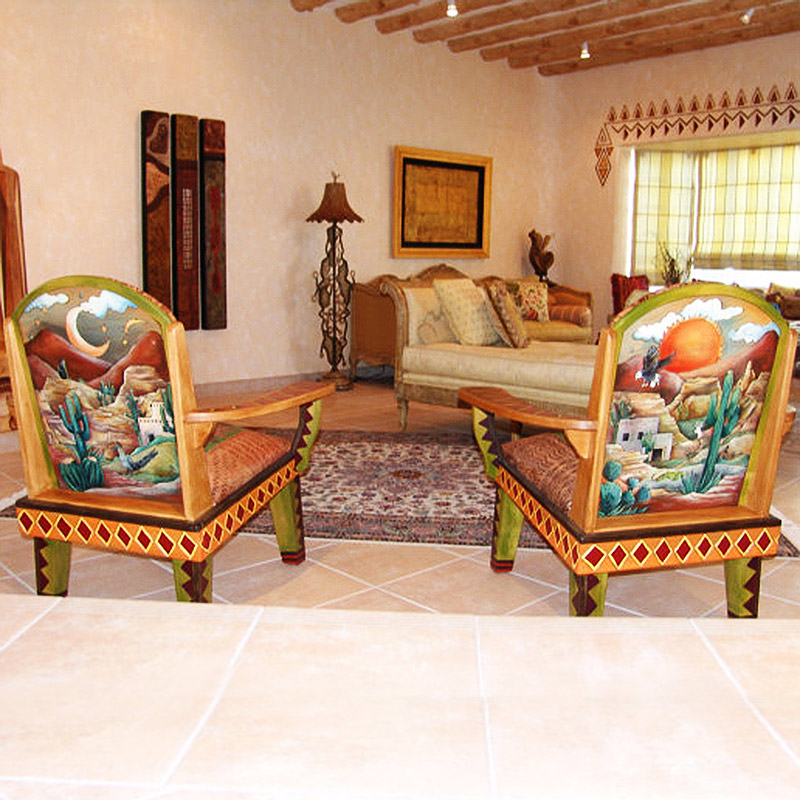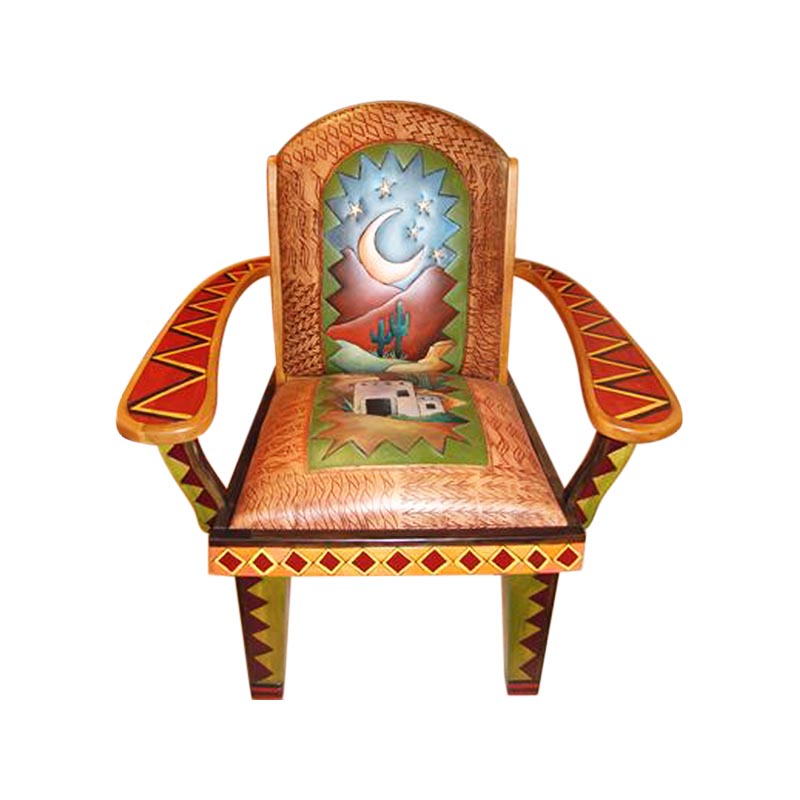 Armoire Custom Designed to Fit
How would you like to make an awkward space in your home into something practical, beautiful and even luxurious? Our Sticks artists are expert builders and furniture designers as well as artists. If this armoire inspires you, let us know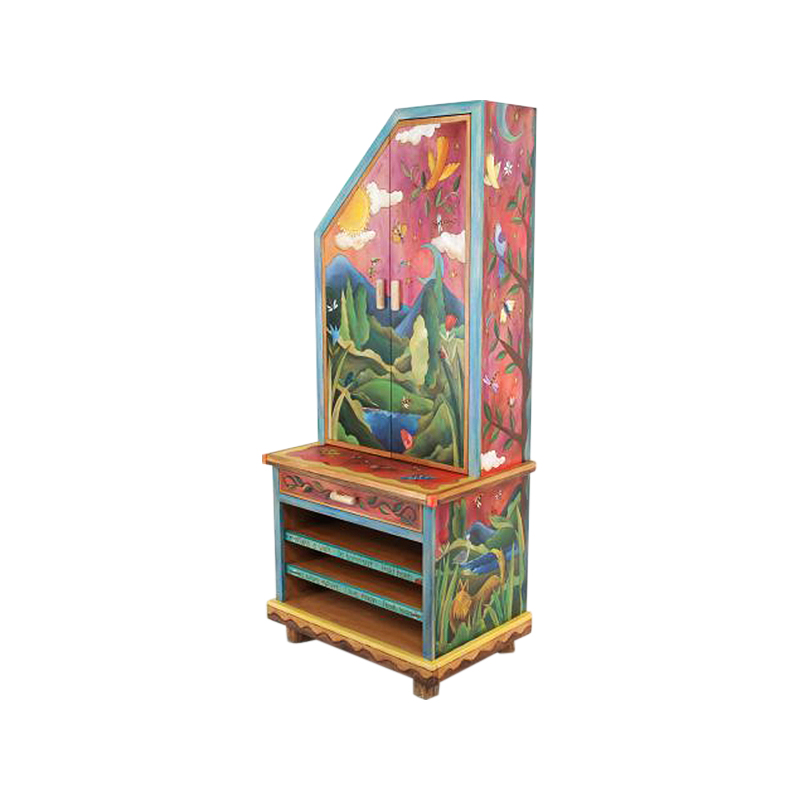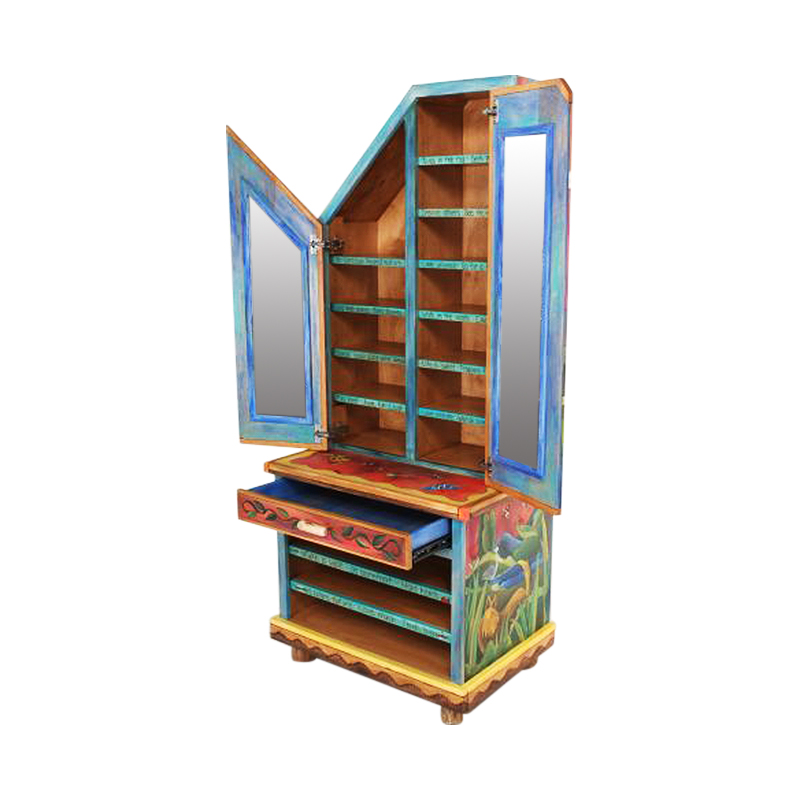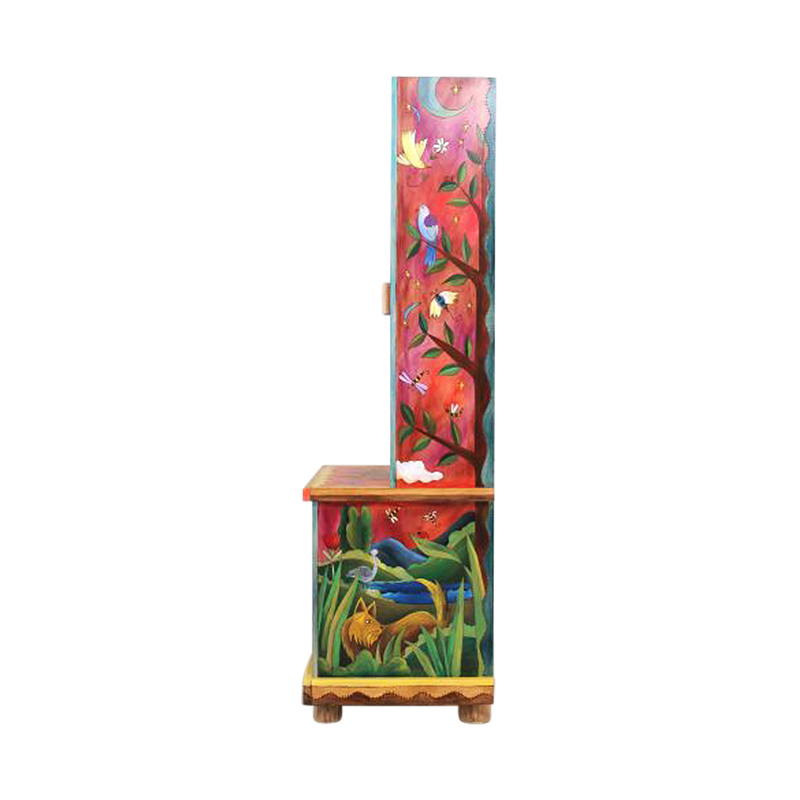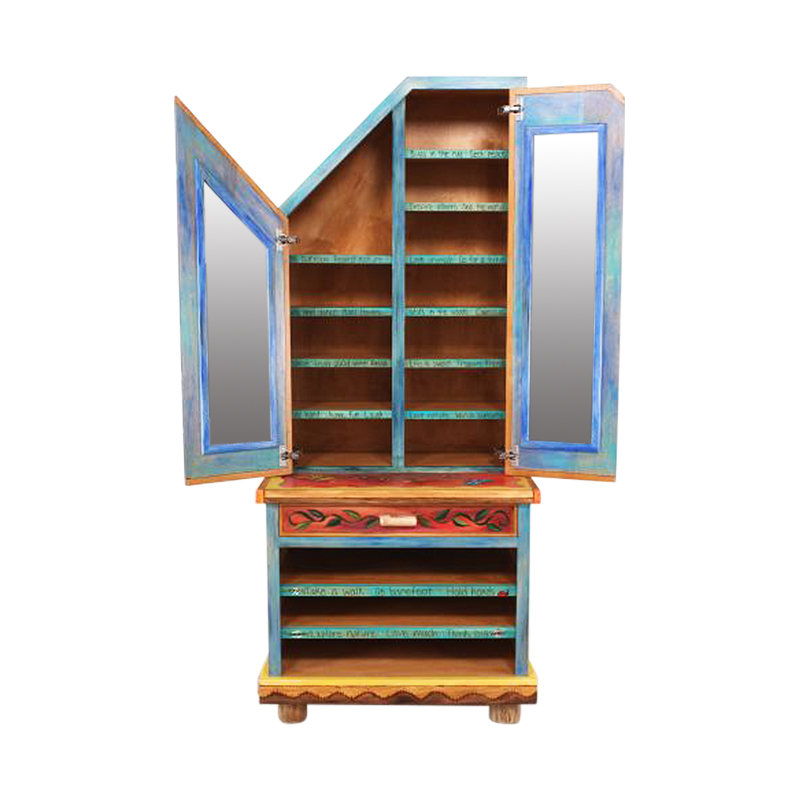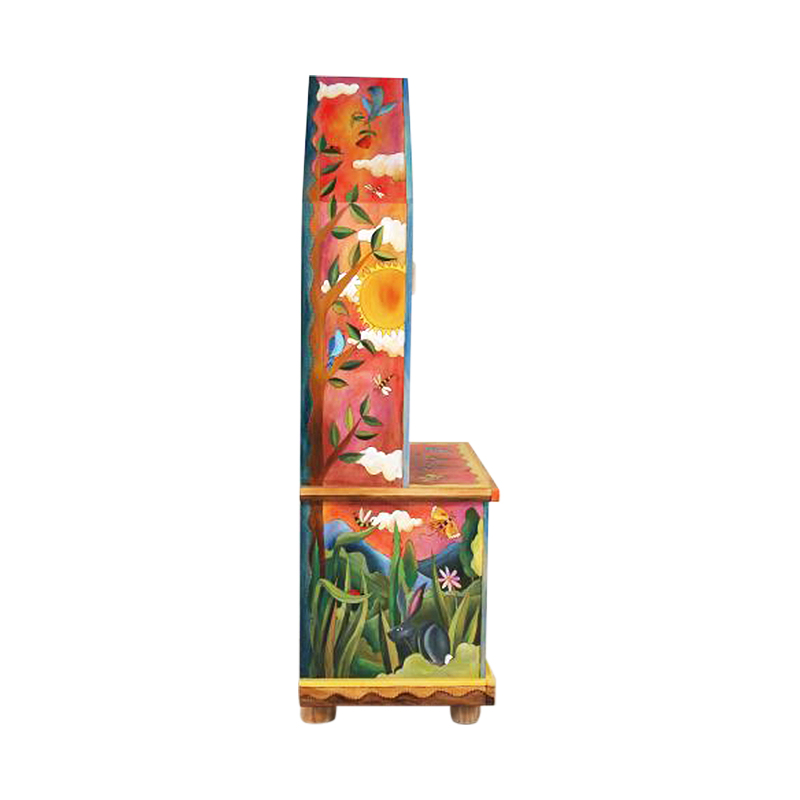 Front Door Welcome Plaque
When you visit this home, you will be greeted by a 36 inch x 36 inch "Welcome to Our Home " plaque. Mounted to the right of the door, a deer, a bear, a rabbit and a racoon wait your approach with the message "Not all who wander are lost- Love all, trust a few, do wrong to no one." This piece may be created in a variety of sizes. It is specially finished to be outdoors.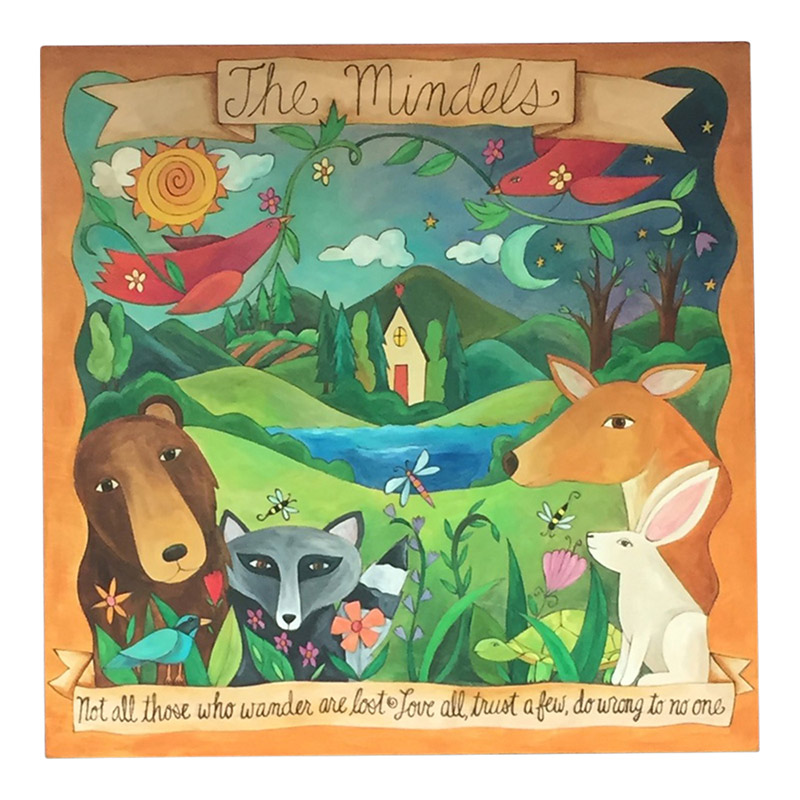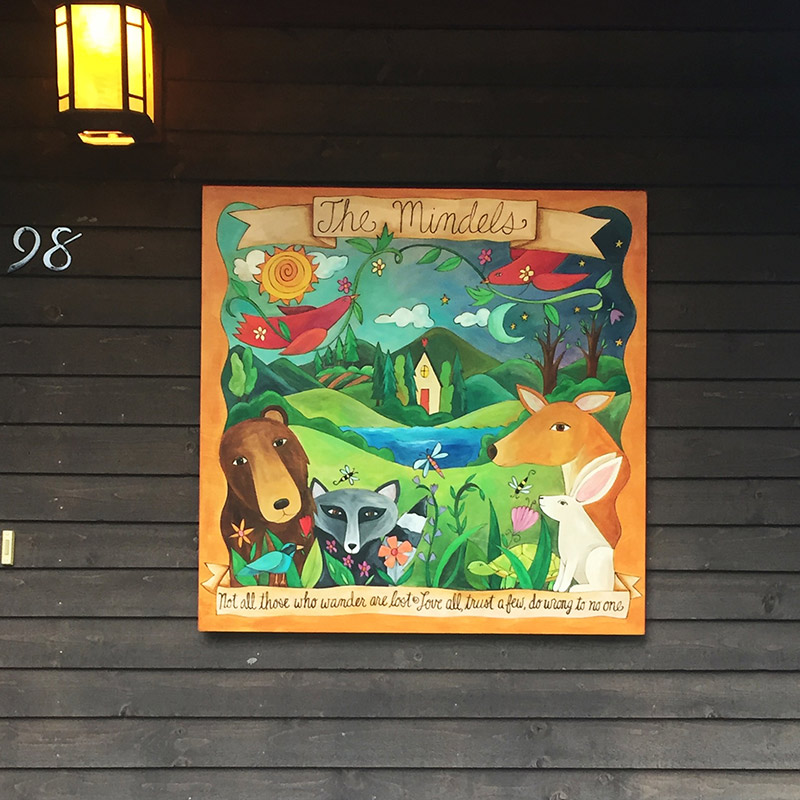 Animal Lover Table
A colorful menagerie of birds, a dog, a cat, a horse, a bunny, fish, butterfly, bee all frolic together in harmony! The bright reds, greens, orange and blue really pop against the border of black with white floral medallions and leaves. Words of wit and wisdom are carved into the steel blue outer border, including "Love animals", "Have fun" and "Eat dessert first". Milled pedestal with two blue striped pillars atop a stack of green, black and white checkerboard and red. Dimensions: 60" W 42" D 30" H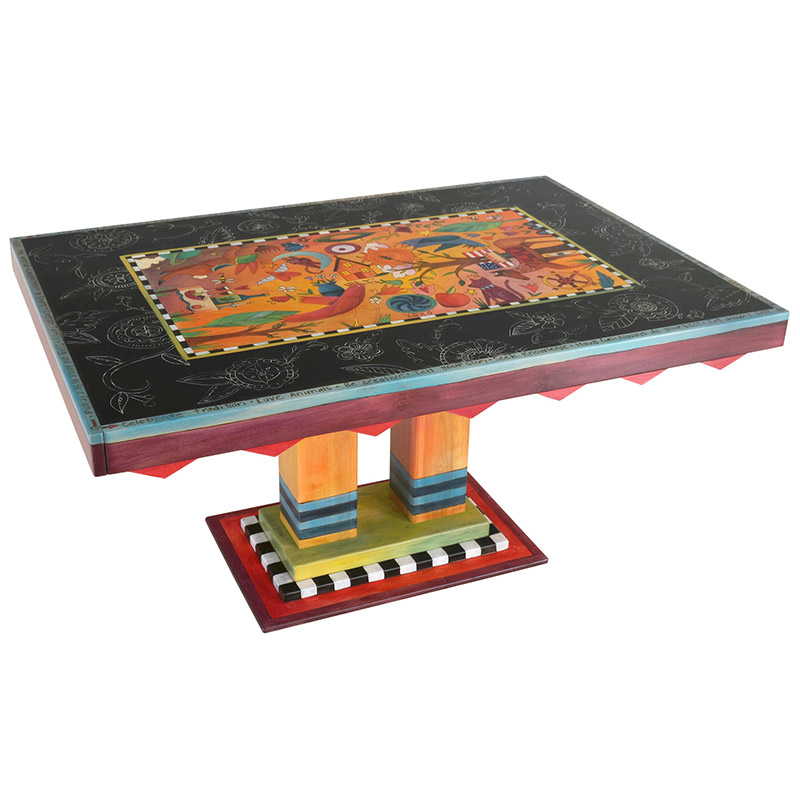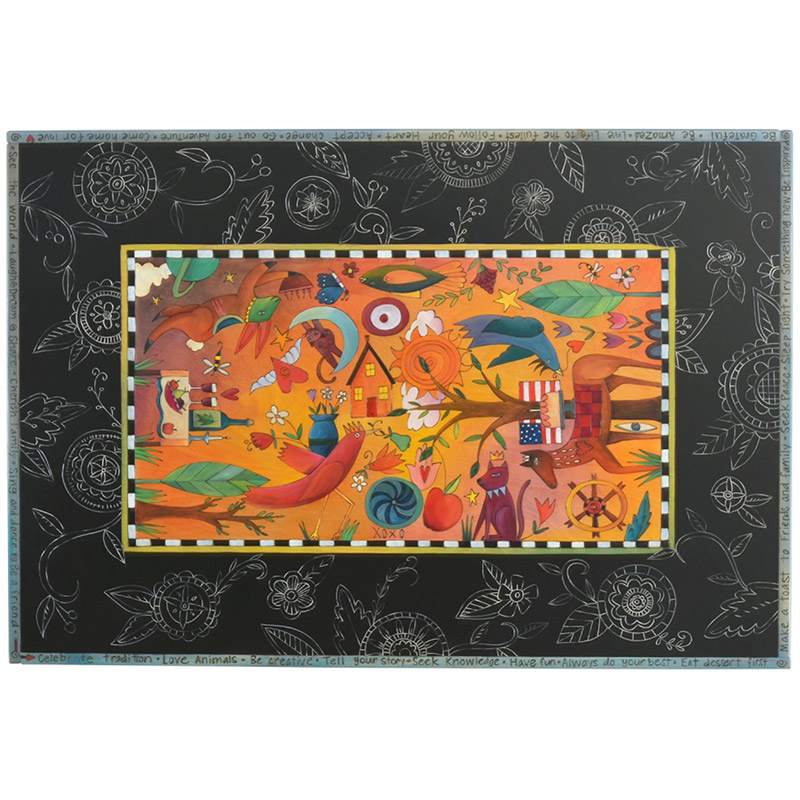 Free Flow Favorites Mirror
Images of customer's favorite things flow around the sides, top and bottom of this mirror. Where most Sticks mirrors have images in square boxes, this mirror has no borders. Words, it turns out, are not necessary to make a statement! Her 2 long time companion cats, books, desserts, treats and sports all have a home here. Bask in the warmth and use this as a model for a mirror celebrating your own warmest memories.
Desk Workstation
The desk and filing cabinet have all been made to show summer and winter landscapes and activities near and dear. If you spend time at a desk, why not have it be soothing and inspirational?
Lazy Susan with Farm Animals
This special, highly detailed & colorful lazy susan by Sticks shows a fall landscape on a farm with goats, sheep, chicken and a cow. Pumpkins and hay bales dot the fields beneath rolling hills and sky full of the sun, moon and stars. One goat has even found a rock to stand on! This lazy susan is 20" in diameter and has beautiful words wrapping its edge urging us to "Live well, laugh often, love much" among many other important reminders.
4 Seasons 6 Sided Dining Table
Refine, revise select and update the results are unique and amazing. Maia helped one of our customers develop a masterpiece for her dining room. Each season is well represented. All the favorite critters are represented. This piece even shows off day and night scenes. The center pedestal combined with 5 foot diameter top ensures every will have lots of leg room, too!
Lots of Experience with Sticks
Since meeting Sticks' Sarah Grant and the rest of the artists from her award-winning Des Moines studio in 2003, Remarkable Things at Stowe Craft has helped hundreds of customers create their own personalized pieces of Sticks art finely crafted from birch, poplar and driftwood.
Through hand drawn imagery, etched contouring, and colorful paint, Sarah and her talented team of artisans turn everyday objects like Mirrors, Tables and Lazy Susans into personal stories as expansive as the imagination of its owner.
Every Sticks piece you see online at Remarkable Things at Stowe Craft can be designed to feature details that tell your story!